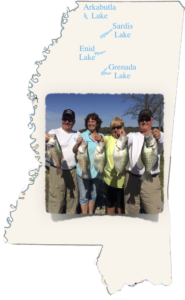 Grenada Lake
Grenada is the ultimate destination for crappie anglers in search of trophy-class fish. The lake is specifically managed for large crappie and it shows, with giant-size white crappies plus stout blacks. There are aggressive minimum-length and creel limits, and because of such restrictions, 2-plus-pound crappies are rather commonplace and 3-plus-pounders aren't uncommon. There's no doubt it's North America's king of crappie lakes.
Enid Lake
Enid Lake has been recognized as one of America's Top 10 Fishing Spots, with white crappie, bass and catfish available in abundance. The lake is the home of the world record white crappie, which weighed an impressive 5 pounds, 3 ounces. Fishing tournaments are held annually at the lake.
Sardis Lake
Giant white crappies swim in Sardis, although the lake's somewhat unique for the state of Mississippi, in that crappies school up and suspend predictably in late fall. The catches can be epic and anglers travel hundreds of miles to fish the bite, but due to this intense and growing pressure, state officials stepped in to protect the crappie population after successive disappointing spawns. Boats now have a total limit. If three or more anglers are fishing from the same boat, the daily limit for the boat is 50 crappies.
Arkabutla Lake
The lake is home to several species of native fish to Mississippi waters, such as Largemouth Bass, Bream, Catfish, and is renowned for producing huge Crappie. And, with more than 30,000 acres of land open for public hunting and numerous activities for public involvement, we are certain there is something for everyone! Whether it's hunting, fishing, boating, or just enjoying the outdoors, Arkabutla Lake provides a variety of opportunities for all outdoor enthusiasts to enjoy.