Truman Reservoir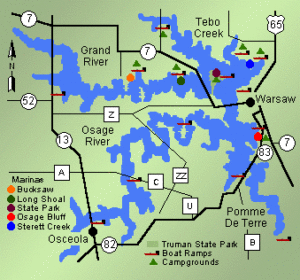 This 55,600-plus acre lake offers 958 miles of coast line and has created a diverse wildlife area rich in the history of Osage Indians, explorers, fur trappers, traders and settlers. Harry S Truman State Park, located on the peninsula that juts into the lake, opened in 1983.
Clear waters, dramatic bluffs and vibrant summer and fall colors make Harry S Truman State Park an ideal place to vacation. The park offers a marina, ample fishing and boating opportunities and water that are ideal for every kind of swimmer. Hiking trails, picnic areas and campsites that dot the park's open oak woodlands, natural grasslands and lakeside areas let visitors enjoy the abundance of wildlife and recreation opportunities at this park.
Truman Lake is a great location for fishing, even in the winter, as power from Truman Dam helps heat the water. Truman Lake is nationally known for its excellent crappie and blue cat fishing. The reservoir is fed by four rivers and several small streams, creating a broad diversity for fishing.
More than 8,800 acres of timber were left standing in the lake to improve aquatic habitat. The lake often hosts major fishing tournaments.
Stockton Lake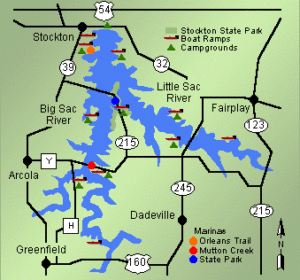 This lake offers beautiful scenery with three hundred miles of unspoiled shoreline and 25,000 acres of clean clear water. This lake is the perfect place to kick back and relax. Wildlife is abundant along the shoreline and varies depending on the time of year you visit. You can see deer at the waters edge, turkey crossing the road and geese raising their young along the shore. Bald eagles are frequently sited, having made Stockton Lake their home.
Stockton is the perfect family lake. There is something for everyone. Water-skiers and wake boarders can usually find a protected cove through the day and always in the evening. Stockton Lake is rated one of the top 10 sailing lakes in the United States. Steady breezes and open water make for great runs up and down the lake. There are many campgrounds around the lake and surrounding area for those of you that want to be one with nature.
When a fisherman thinks of Stockton Lake, he's hard pressed to figure out what he wants to fish for. Walleye are in good numbers and size on Stockton. White bass are abundant and can be caught almost any time of year on a windy bank. Doesn't matter the time of year – crappie fishing is great, day or night. And Stockton attracts most of the big professional bass circuit tournaments, so you know the bass fishing is excellent. Throw in the fact this little southwest Missouri lake is quaint and has a small-town feel about it, and you might consider retiring here one day.